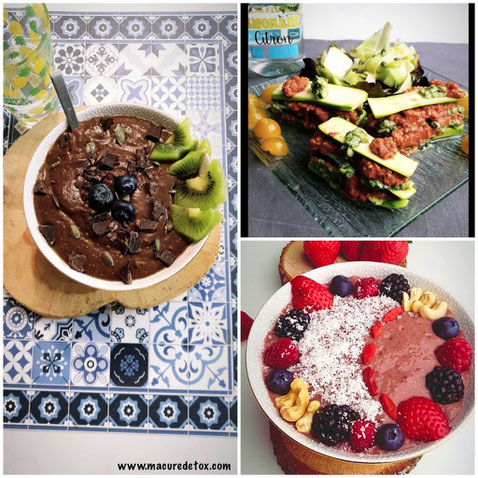 Pour la version française, cliquez ici :
https://www.macuredetox.com/detox-challenge/
SUMMER DETOX CHALLENGE
3 DAYS TO CLEANSE YOUR BODY AND GET BACK IN SHAPE
 Discover the golden rules of a safe, healthy and effective 3-day detox, adapted to your needs, to regain your well-being and lighten your body and mind.
You can follow this Summer Detox Challenge whenever you want, over a period of 1, 2 or 3 days.
Healthy, delicious and safe, these 3 days will make you feel refreshed, lighter and full of energy. Be ready to embrace a New You!
3 LEVELS OF DETOX CHALLENGE TO BETTER MEET YOUR NEEDS
In this new ebook, you will find 3 levels of Detox Challenge to better meet your needs and be able to customize your challenge:
CHALLENGE LEVEL 1:
You drink smoothies all day long and  you complement them with a delicious raw vegan meal such as raw lasagna, falafel and makis.
This Challenge Level 1 is suitable to everyone, and easy to handle if  you are working or eating with family and friends.
CHALLENGE LEVEL 2:
You only drink smoothies, at every meal, for for 3 days of the detox.
This Challenge Level  2 requires a little more effort. However, all  previous editions' challengers were surprised to not feel hungry and found it much easier than expected.
CHALLENGE LEVEL 3:
You mix levels 1 and 2 depending on your schedule.
For example, you can follow « level 1 » for 2 days and « level 2 » for 1 day.
The 3 Challenge levels are suitable for vegans and lactose-free.
Discover the video of your Summer Detox meals and smoothies by clicking on: https://youtu.be/KYOAQi1Rkf8
WHAT IS INCLUDED IN THIS CHALLENGE?
-     - A 105 pages English e-book including  :
o    A complete guide about everything you need to know about detox
o   A pretox (before the detox) and post-detox (after detox) program which will help you to maintain a social life while preparing your body for detox as well as prolonging the benefits of your 3 days at the end of your Detox Challenge.
     This pretox and post-detox program is more a healthy lifestyle than a diet, and you can follow it as long as you want.
o   A 3-day detox program with recipes of healing smoothies and nutrient-rich vegan meals to quickly  help your body cleanse it.
o   Detox tips
-   - A detox shopping list with 100% healthy ingredients
- Email support during your Detox Challenge.
-   - A certificate of achievement to receive by email at the end of your Detox Challenge.
BENEFITS OF THE WINTER DETOX CHALLENGE:
- Increased energy and vitality
- Weight loss  (although  I encourage you to focus more on the new eating and lifestyle habits that you will implement rather than your weight)
- Improved bowel movement
- Clearer and more radiant complexion
-  Improved mental focus, positive mind
-  Enhanced immune system function
-  Improved overall sense of happiness and wellbeing 
WHO CAN DETOX?
Everyone can benefit from a detox. 
If you want to feel better, refreshed, lighter, with heaps of energy, a detox is great.
But if you are pregnant or breastfeeding, extremely exhausted or depleted, have a severe cancer, suffer from a disease, are an insulin-dependant diabetic, DO NOT FOLLOW A DETOX.*
If you are on medication, ask for medical advice from your certified and licensed doctor before following a detox and listen to your doctor !
JOIN NOW:
Get your Summer Detox Challenge program in exchange of  a donation (as much as it is reasonnable) to support my work.
My goal, as a Certified Detox Expert (from the Health Sciences Academy, London), is to add to my base of knowledge a new training to acquire certification as a Health Coach  from the Integrative Nutrition Institute of New York.
This training will help me to provide you  with new tools and healthy diet programs, as well as one-on-one coaching to  guide you through exercises, nutrition and lifestyle changes to help you feel your best.
The Integrative Nutrition 1-year training costs 5995 USD.
For more information about the Integrative Nutrition Institute, click here : https://www.integrativenutrition.com/
HOW TO MAKE A DONATION?
Ø PAYPAL (https://www.paypal.me/SOPHIECOT) 
Ø LYDIA (https://cagnotte.me/48086-formation-integrative-nutrition-sophie-cot/fr)
 Ø REVOLUT (sosocot@hotmail.com - (33) (0) 623 155 912
IMPORTANT:
Once you have made a donation, please send me an email on: contact@macuredetox.com
I will send you the PDF ebook by email.
If you don't receive it, please check your spam folder and accept emails from contact@macuredetox.com, to be sure to receive your support emails.
Thank you very much in advance for your support.
I wish you a very successful Detox Challenge !
Follow me on :
INSTAGRAM : https://www.instagram.com/moncoachdetox/
FACEBOOK: https://m.facebook.com/macuredetox/
*NB: The information in this ebook is not intended to diagnose, treat, cure or prevent any disease or to be a replacement or a substitute for any medical treatment.
All information presented in this ebook is for educational purpose only.
If you have or suspect that you have a medical problem, I recommend you always contact a medical professional before undertaking any new diet program.