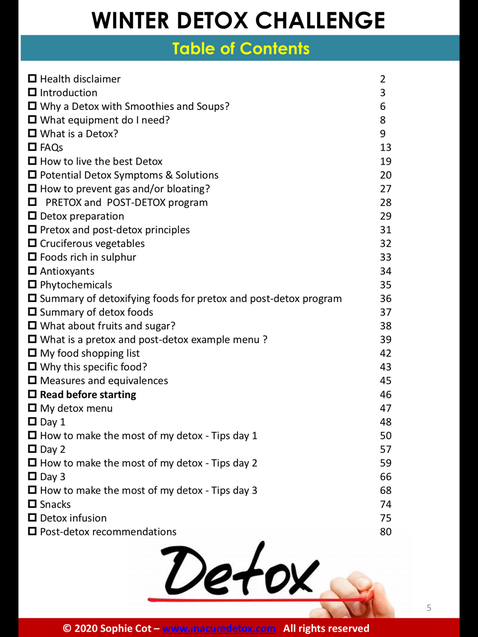 Pour la version française,
https://www.macuredetox.com/detox-challenge/
WINTER DETOX CHALLENGE
3, 2, 1, DETOX:
3 DAYS TO CLEANSE YOUR BODY AND GET BACK IN SHAPE
Discover the golden rules of a safe, healthy and effective detox, adapted to your needs, to regain your well-being and lighten your body and mind.
You can follow this Winter Detox Challenge whenever you want, over a period of 3, 6 or 9 days, thanks to a 3-day PRETOX program (before the Detox Challenge), a 3-day DETOX and a 3-day POST-DETOX (after the Detox Challenge).
Healthy, delicious, easy to prepare and effective, this 3-day detox program will leave you feeling refreshed, lighter, and with heaps of energy.
It will give you the quick start you need to feel motivated and keep incorporating good eating habits into your lifestyle.
BE READY TO EMBRACE A NEW YOU!
Over the course of 3 days, you will be eating healing smoothies and nutrient-rich soups.
You won't feel hungry or deprived as you will be eating the correct amount of food to keep you strong but at the same time allowing your body to get  a rest and not digest too much.
You will get maximum nutrition into your body so you can gently cleanse your digestive system and boost your energy.
No calories to count, no magic pill to swallow, no frustration, and you will not feel hungry.
This Challenge is suitable for Vegetarians and is lactose-free.
WHAT IS INCLUDED IN THIS CHALLENGE?
-     
-        - A 84 pages English e-book including  :
o    A complete guide about everything you need to know about detox
o   A pretox (before the detox) and post-detox (after detox) program which will help you to maintain a social life while preparing your body for the detox as well as prolonging the benefits after your detox
o   A 3-day detox program with recipes of healing smoothies and nutrient-rich soups to quickly get fibers, antioxydants and liquid into your body and help cleanse it.
o   Detox tips
-          - A detox shopping list with 100% healthy ingredients
-          - The access to the private Facebook « Detox Challenge 2020 » group to give you support and motivation
-          - Email support
-          - A certificate of achievement
BENEFITS OF THE WINTER DETOX CHALLENGE:
-          Increased energy and vitality
-           Weight loss  (although  I encourage you to focus more on the new eating and lifestyle habits that you will implement rather than your weight)
-          Improved bowel movement
-          Clearer and more radiant complexion
-          Improved mental focus, positive mind
-          Enhanced immune system function
-          Improved overall sense of happiness and wellbeing 😊
WHO CAN DETOX?
Everyone can benefit from a detox. 
If you want to feel better, refreshed, lighter, with heaps of energy, a detox is great.
But if you are pregnant or breastfeeding, extremely exhausted or depleted, have a severe cancer, suffer from a disease, are an insulin-dependant diabetic, DO NOT FOLLOW A DETOX.
If you are on medication, ask for medical advice from your certified and licensed doctor before following a detox and listen to your doctor !
The information in this ebook is not intended to diagnose, treat, cure or prevent any disease or to be a replacement or a substitute for any medical treatment.
All information presented in this ebook is for educational purpose only.
If you have or suspect that you have a medical problem, I recommend you always contact a medical professional before undertaking any new diet program.
JOIN NOW:
Get your Detox Challenge Winter program in exchange of  a donation to support my work.
My goal, as a Certified Detox Expert (from the Health Sciences Academy, London) is to add to my base of knowledge and training and acquire certification as a Health Coach  from the Integrative Nutrition Institute of New York.
This training will help me to provide you  with new tools and effective, easy and healthy diet programs.I will guide you through exercise, nutrition and lifestyle changes to help you feel your best.
The Integrative Nutrition 1-year training costs 5995 USD.
For more information about the Integrative Nutrition Institute, click here : https://www.integrativenutrition.com/
HOW TO MAKE A DONATION?
Ø PAYPAL (https://www.paypal.me/SOPHIECOT) 
Ø LYDIA (https://cagnotte.me/48086-formation-integrative-nutrition-sophie-cot/fr)
 Ø REVOLUT (sosocot@hotmail.com - (33) (0) 623 155 912
Once you have made a donation, please send me an email on: contact@macuredetox.com
Thank you very much in advance for your support and I wish you a very successful Detox Challenge !
You can follow me on :
INSTAGRAM : https://www.instagram.com/moncoachdetox/
FACEBOOK: https://m.facebook.com/macuredetox/