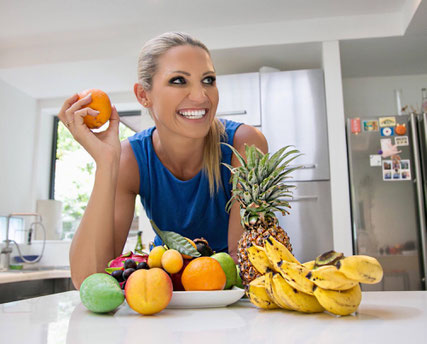 A DAY IN THE LIFE OF ....
MICHELLE COOPER,
FOUNDER OF AMITY WELLNESS RETREAT,
IN PHUKET (THAILAND)
I feel really honoured to start this series of interviews about wellness, with MICHELLE COOPER.
This beautiful 38 year-old English lady (who looks like 10 years younger!) is the Founder of Amity Wellness Retreat, www.amitywellness.com
and Café Cleanse https://thailandcleansecafe.com, in Phuket(Thailand). She has also a private consultancy page on: www.bodyminddetox.com
I met Michelle for first time in 2009 in a Retreat that she used to manage and she introduced me to the amazing world of detox.
I can guarantee you that getting your first experience of detox with Michelle is the best way to start !
Michelle grew up in a small quaint village in the UK.
She knew from a young age that she wanted to help people, through health and nutrition.
Throughout her life, she has studied a number of healing modalities and subjects such as Functional Diagnostic Nutrition, Nutrigenetics, Anatomy and Physiology, Detoxification, Sports Science, Stress Management, Counselling, NLP (Neuro-Linguistic Programming), and she is currently studying to be a Functional Medicine Health Coach.
For more than 15 years, she has travelled all over the world and worked in the leading centers of wellness and detox.
She has personally supervised thousands of cleanses and wellness programs.
Over the last decade, Michelle has become the top leading specialist in detox and wellness, as well as being one of the best Health Coaches in the world.
In 2012, Michelle achieved her dream : to create a  wellness retreat, in Phuket, where people could withdraw from the hustle, bustle and stresses of everyday life.
A place where people could transform their physical, emotional, mental and spiritual body using specialised Holistic Detoxification protocols.
A place where she could share her passion, knowledge and education.
A place where her guests are offered the opportunity to experience true vitality and to understand the importance of cleansing and reconnecting with themselves.
I am so pleased to share with you her top tips for health. She is a role model for me and really inspires me.  Michelle is the epitome of Healthy. She is glowing from the Inside out!
MICHELLE, CAN YOU PLEASE DESCRIBE AN EXAMPLE OF A TYPICAL DAY FOR YOU?
5 : 30 AM :
I wake up.
I tongue scrape and I read a poem by Christian D Larson, which is like a daily affirmation in a way: « THE OPTIMISTS CREED»
https://www.goodreads.com/work/quotes/19107372-the-optimist-creed
as I am brushing my teeth (coconut oil and bicarbonate or sometimes just a herbal toothpaste that tastes like crap !)
5 :45 AM
I take my dog, Zak, for a walk, my favourite part of the day.
6 :30 AM
I always incorporate some form of movement in the morning.
I love to exercise. it could be a mini home workout, foam rolling, jogging, stretching or a gym session or there is a training group, called old Dawg training, which consists of some fantastic local people.
As I'm getting older, I am more intuitive with my exercise approach and i am more capable to listen to my body.
I finish with 5 minutes breathing/cool down by using « pranayama lite » meditation app on my iPhone: https://itunes.apple.com/us/app/universal-breathing-pranayama-lite/id435871685?mt=8
7 :00 AM
I always listen to podcasts as I am getting ready for work.  It really inspires me.
I have two categories of podcasts, educational and inspirational :
- Educational is more lectures and webinars from my coursework for functional medicine.
- Inspirational, I literally have hundreds of greats podcasts saved on my iPod and I play the category on shuffle.  So I never know who I will get,  just that it will be inspiring or motivational. 
For example : Wayne Dyer, Jim Rohn, Jay shetty, Deepak Chopra, Gabriella Bernstein, Oprah, Robin Sharma, lisa Nichols, Tony robins etc.
7 :30 AM :
Breakfast time!
Occasionally, I make my own breakfast which would be a smoothie or a chia bowl.
But usually I go to Wilson's Café, https://www.facebook.com/Wilsonsphuket/ The food is clean. 
(Editor's note: I used to go to Wilson's Café. This place is great, full of healthy yummie meals. Highly recommended!)
I will usually aim for protein, fats, fibre, especially if I trained hard e.g. omelette, avocado and broccoli.
8 :30 AM
Work time !
I work 6 day a week at Amity.
I am always on the go and busy but living through my purpose and enjoying having the opportunity to share my passion. I love it.  I meet amazing people all day long.
5 – 5 :30 PM
Usually, I try to get back before sunset to walk zak again and I try my best to catch the sunset as we are walking.
I love this, it helps me to feel connected and grounded and reminds me of this beautiful paradise that is my home.
6 PM
I always try to study, at least 2 to 3 hours,  5 nights per week, which is not easy with my private consulting sessions… and my work : I am currently writing an ebook, launching 3 new health plans and managing my 2 businesses, so I am a little overwhelmed with work.  But I really love to do it !
Some evenings, I go to yoga or fitness, if I don't make it in the mornings.
I keep 2 evenings per week free for relaxing or meeting friends for dinner.
BEFORE 7 PM
I always eat dinner early, after sunset.  I rarely eat after 7pm unless I am meeting friends for dinner. 
For my diet, I always try to eat real foods whenever it is possible. I know my body and mind function better when I do this. 
I used to be obsessive about diet and exercise. I was a raw vegan at one point in my life. I was stressed and overtraining, which led me down a path to burn out.
Nowadays, I am more of a mindful flexatarian : if I feel like a coffee, I will take it. I will eat meat or fish  if my body craves it and I will enjoy a glass of wine with dinner sometimes but I make sure I get nutrition at every meal possible and I rarely ever eat sugar.
I usually Skype my boyfriend or family latter in the evening, due to the time difference. I love speaking to them, I miss them so much, the sacrifice of chasing my dreams is being so far away from them.
10 :30 PM
Lights out and time to sleep.
I always listen to a guided meditation in bed as it helps me to sleep better.
I sometimes listen to Grace Burton's guided meditations: http://www.graceburtonhealing.com/meditation-album. 
 (Editor's note: I highly recommend GRACE BURTON. Grace is an Intuitive Therapist, Energy Reader and Healer, Spiritual and Motivational Educational Speaker and Advisor. She is worldwide available for distant Intuitive Counselling,  Energy Reading and Healing via Skype:  https://www.graceburtonhealing.com)
I have a lovely app called Gratitude and sometimes I listen to a sleep hypnosis one from Darren Marks.
I know that my life might appear a little unbalanced to some people but I love my work.
I socialise at work meeting amazing people from all over the world.
I love to study and learn and grow and I love to move and exercise.
 It is a blessing that I am able to do all of these things so much!
CAN YOU GIVE US AN EXAMPLE OF YOUR FOOD OF YESTERDAY?
 BREAKFAST:
Omelette, avocado, broccoli... and a coffee!
Editor's note: Have a look on Michelle's breakfast on the video: 
https://www.youtube.com/watch?v=VSdI4kdln4A
LUNCH:
Chicken salad, avocado, egg ... and a green juice!
Editor's note: Have a look on Michelle's lunch on the video: 
https://www.youtube.com/watch?v=PIZjQFsmnOY
DINNER:
Roast veggies on a bed of salad...and I will enjoy a glass of wine sometimes!
Editor's note: Have a look on Michelle's dinner on the video: 
https://www.youtube.com/watch?v=iAf4HVCOPAU&pbjreload=10
WHAT ARE YOUR TOP 3 WELLNESS TIPS?
NUMBER 1: Find a job that resonates with your passion, values and purpose.
NUMBER 2: Look at meal time as an opportunity to nurture, nourish and support the body with nutrient dense foods.
NUMBER 3: Sitting all day at the computer is so detrimental to our health. Find ways to move more often throughout the day.
THANK YOU VERY MUCH MICHELLE FOR TAKING THE TIME TO ANSWER ALL MY QUESTIONS !
If you want to know more about the detox programs of Amity Wellness Retreat, here is the link : www.amitywellness.com
Or you can email her on : info@amitywellness.com
If you are interested in a private consultation with Michelle, you can contact her through  her website: www.bodyminddetox.com
I hope that you have loved reading this beautiful testimonial and that you feel inspired by Michelle's lifestyle.
Stay tuned for more inspirational interviews!